I know that today Google Reader is no more, but there are plenty of ways to follow the blog.
I've been using
Feedly
since getting my iPad a while back and I love how easy it was to get my Google Reader content imported. You can follow me on Feedly by clicking right here: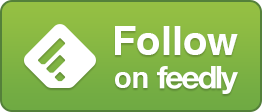 You can also follow designed by Diana on
bloglovin'
by clicking on this button:
And I also noticed that my RSS feed link was broken, but it's all fixed now, so you can follow the blog that way too.
RSS
Which ever way you prefer, just make sure to follow the blog, so you'll never miss an update or new post.